Paluoc, Kenya, update October 2018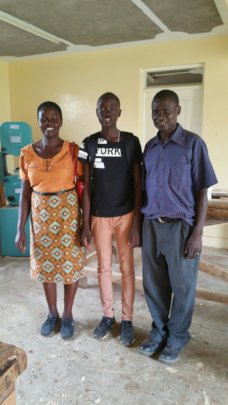 The work of the workshop has been seriously affected over recent months by the untimely illness and death of Paul's wife, Lucy. She was one of the founders of Paluoc and a driving force behind its development. She sadly died of cancer in July this year. The picture above shows Lucy cheerful and full of life, taken in March this year, at the workshop with Paul and their eldest son Graham.
The workshop was kept operational thanks to the help from Gabriel who helps usually on a part-time ad hoc basis.
The plans for the next few months are to:
1. Train the two new students and prepare them well for a government test to be taken at the end of the year 2018.
2. Obtain paid work for generating income for the centre and motivating and retaining the trainees. Paul had sought and obtained such work but it was delayed from August to October due to his absence during Lucy's illness.
The new trainees need a place to stay because they say they cannot operate from their current abodes because they fear that their hosts won't support their bid to learn. Paul is thinking about the possibility of housing them in one of the unoccupied iron sheet rooms but only after a proper background check.
The cost of training materials has increased sharply due the hard economic times being experienced in Kenya. The cost of lunch, electricity, and water has also increased.
Kennedy, an existing trainee, is working on obtained work to help fund himself and the workshop. He is hoping to be able to qualify at a high enough level to enable him to be able to marry sometime in the foreseeable future.
Paul is going to have his hands full looking after the workshop and 3 school age children but some family help is available. We wish them all well as they try to get back on with their lives and seek to continue the successful work of the workshop. There are still plenty of local youngsters who can benefit from the training and nurturing of the workshop.
(RSS generated with FetchRss)
Source: Reports