Sarberia India Update September 2018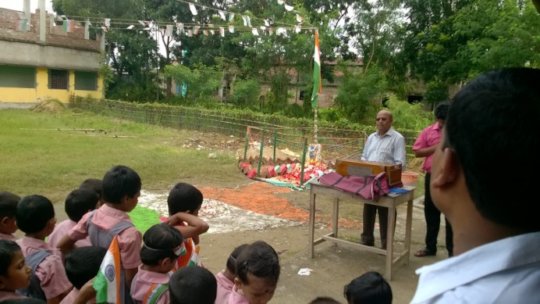 The New Life Centre family of students and staff enjoy celebrating important events throughout the year – such as the birthday of the Croatian priest who motivated Alindra to set up the school in Sarberia, Indian Teachers' Day and Independence Day.
The school day closest to Independence Day (15th August) begins with an assembly as you can see and the raising of the Indian flag to the National anthem. I love the Indian National anthem written and composed by Rabindranath Tagore in 1911. When I visit the school, most assemblies end with the anthem and I always make sure those visiting with me have the words to sing along. It is such a beautiful piece of music and the children sing it with pride.
This year, as part of the celebrations, the male staff played the older boys at football and as it is still in the monsoon season as you can see, a mud bath ensued! There is such a lovely sense of fun between the staff and students that they felt perfectly at home following the football with a swim in the pond in Alindra's garden.
No one is left out in the celebrations at the end of the day, with all the staff enjoying some time together.
As a retired teacher I know only too well the benefits of engaging with the children you teach in an extra-curricular way as you then become a person to them and not just a figure of authority. It takes a good level of community to provide this and the New Life Centre capably demonstrates the care that the children receive in this extended family.
School can be fun too!
(RSS generated with FetchRss)
Source: Reports