Pizz Holiday Club News September 2018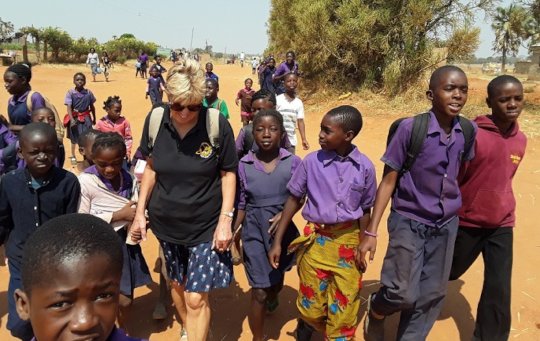 Host Killian writes:
Four volunteers visited Pizz School in Monze, Southern Province of Zambia in August to promote the holiday club. Myfanwy, David, Chris and Paul. Many activities were carried out including reading, writing and drawing, playing netball and football, and accompanying 76 of the orphans and vulnerable children to Victoria Falls, one of the greatest wonders of Africa. Here the pupils had time to see many of the animals they had only seen in books.
The volunteers had time to conduct home visits in Monze, meeting with caregivers who look after the children.
We thank Hands around the World for your support and thank these volunteers for finding time to come to visit us. Your help goes a long long way and the impact of your work is appreciated by us all in the community of Monze.
Myfanwy writes:
My first introduction to the Zambian countryside was the setting sun colouring the evening sky.
Following our meeting with Mr and Mrs Sianga and the teachers, we soon established a daily routine at the Holiday Club of sports, games, crafts, singing and a daily story in the classrooms of over 50 children between 6-18. I am impressed on how creative and imaginative the children are making windmills, sundials, paper plate tapestries and a collage of the Zambian map. Our most impressive creation was a Hands Around The World circle of hands on the floor.
We visited the local mission hospital and a local clinic. However our most humbling experience was the visit with the care givers to exceptionally vulnerable families in need. We presented Mr and Mrs Sianga with donated wool and knitting needles along with books, school stationery and crafts.
The school and equipment is in much need of maintenance with the classrooms having to accommodate an increasing number of orphaned and vulnerable children. The teachers work hard to achieve very good results, in difficult circumstances. My time at Pizz has been enjoyable and memorable.
David and Chris write:
Our time at Pizz school was full on and very rewarding. Our days quickly fell into a pattern of running the holiday club in the morning with the help of some teachers and seeing various aspects of life in the community in the afternoons.
We had between one hundred and two hundred children each day and started with outdoor games including sack races and ball games. Some then went to play football with Chris and others did activities in two classrooms, crafts with Myfanwy and games with me. It was quite daunting having to entertain up to fifty children in one room. However they quickly settled into groups and made puzzles, did word games, snakes and ladders and Jenga. They were incredibly enthusiastic and happy.
We painted one classroom and repaired lots of desks, but there is a lot more basic maintenance needed.
We discussed the poultry project with the team and visited two other poultry projects to pick up ideas. We agreed to use some of our fundraising monies to pay for training on the use of the new incubator and poultry management, however further funds will be needed for the project to come to fruition.
We greatly enjoyed our time in Monze. The people were extremely friendly and remarkably cheerful considering the many daily challenges that they face.
In all, we spent 18 days helping at the school, but on one of the days we took 76 children to Livingstone. A very enjoyable experience, especially seeing all the children enjoying themselves!
Paul writes:
Prior to going, preparations included a range of inoculations and an induction day which covered some background to the charity, country and the school along with the purpose of the trip and understanding some of the challenges we might face. We also picked up extra luggage which we were taking out to the school on our journey.
After a number of delays it took over 36 hours to travel to Monze from my home in Manchester. On arrival at Lusaka we were greeted by the majority of our bags but unfortunately 2 were left without their luggage for a week…
We were met by Killian the manager for Pizz School. The 115 mile journey to Monze took at least 6 hours on punishing roads with constant traffic and some hair-rais…
(RSS generated with FetchRss)
Source: Reports