Bugarama, Rwanda Update July 2018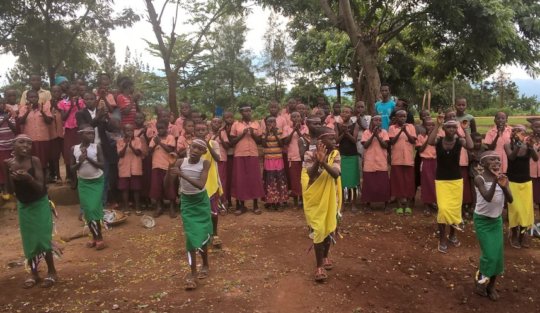 A team of HATW volunteers from Jersey Channel Islands will be returning to Bugarama again in November this year to continue our programme of development in schools in and around the town. We have now prepared a three-year programme of improvements taking in all five local schools.
Last year we expanded our reach to two new schools, at Kibangira and Nyakagoma, where we were able to build five new classrooms at each school with the benefit of assistance from Jersey Overseas Aid. We will be working at both of these schools again, refurbishing old existing classrooms at Kibangira and improving the landscaping at groundworks at Nyakagoma which will help to prevent soil erosion during the rainy season.
When we first visited Kibangira a couple of years ago the buildings were in a very neglected state – one had even lost one of its walls. The new classrooms there are an outward sign of a transformation of the school, supported by the Rwandan government which has installed electricity earlier this year. We have been able to provide three second hand computers and a photocopier. Next year our plans include a full-scale ICT centre. The teachers and the pupils have discovered real pride in their school.
Meanwhile, at Muko School this year we will be providing a multi-use sports area, with concrete base, for basketball, netball and volleyball. We have seen the impact this facility has had on Mihabura School where the same sports facility was provided a couple of years ago. This ever-expanding school desperately needs additional facilities besides basic classrooms. Next year's plans include more new classrooms, this time extending upwards by providing a second storey on existing buildings – it's the only sensible way to expand given the pressures on land in Rwanda.
There is no additional building work at Mihabura this year – but we are providing financial support for the school feeding programme. This has been key to the school's recent success in boosting attendance and in improved exam results, making this one of the most successful schools in the region.
The schools in Bugarama are a model of achievement. Each year when we visit we see growing pride and self-confidence. Hands Around the World is proud to support them. Thank you for your support and encouragement. Please help us continue to make a huge difference in the lives of these children.
(RSS generated with FetchRss)
Source: Reports