Pizz School Lunches Update July 2018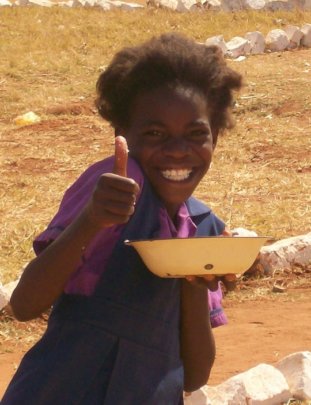 When we first started our 'Lunch Box Fund' in 2013, just £1 met the cost of simple but nutritious school lunches for 1 child for a whole month in Monze!
But the cost of food has gone up a lot, and also the cost of charcoal and other essentials for catering on a large scale.
We have just been talking through the needs for the coming year. At this time, shortly after the harvest, Pizz can bulk-buy maize and groundnuts at least, to store for the whole year ahead, for about £5000.
And now the extras cost about £200 per month.
This comes to £7400 for the year – to feed almost 500 hungry school children.
Through generous support from well-wishers like you, we are able to continue to see that these poor children, many of them orphans, get a regular daily school lunch (which often is their only meal of the day).
No wonder it's popular and encourages good school attendance! These days the children look healthier, smile more, are more energetic and do much better in their school exams.
Not bad for £1.25 per child per month. Please chip in and help us to continue this support! Thank you
(RSS generated with FetchRss)
Source: Reports