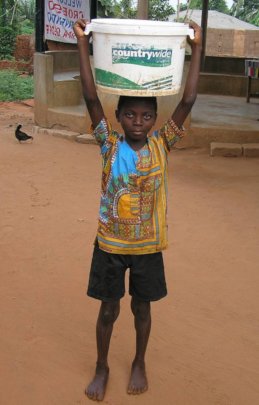 I spent the first two weeks of April in Affame Benin, staying at the Chez Papa Geoff orphanage. I will have to find alternative accommodation for my next visit as there are an extra 12 orphans arriving in September/October. This takes the orphanage to full capacity (24 children) and thus there will be no spare rooms.
The local language here is Fon but all teaching in schools is done in French. This, it has become apparent, is a problem for the children who have missed a lot of schooling due to family circumstances. They then sit quietly through the lessons without being able to understand anything.
In an effort to overcome this difficulty we are now arranging for a Wi-Fi connection at the orphanage and are also sending out some re-furbished lap-tops. This will enable children to access a lot of language courses designed for their age group.
The long standing problems of the bore-hole water supply are now being overcome thanks to the generosity of the local mosque who are hand digging a well. The infrastructure for a piped water supply and showers is already in place. The orphanage is happy to accept different faiths and indeed the local organisers are of diverse religions.
The agricultural project, designed to provide long term finance for the orphanage, is moving steadily forwards. The fields are now mostly clear of the scrub that had invaded and have produced their first crops. As there has never been an accurate map of the very irregular shape of the land, I spent several days producing an accurate scaled plan which will help to determine the actual areas of each crop. I am currently investigating the possibility of using G.P.S. to improve accuracy.
I am pleased with the progress in all areas and especially glad to see how happy the children are.
(RSS generated with FetchRss)
Source: Reports