DCC Kenya May 2018 Update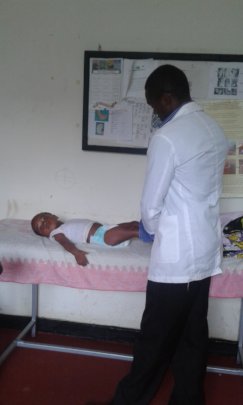 How quickly it seems that three months pass, before the next project report is due! The pace of life in the UK seems to move much faster than that of our friends and colleagues in the disability schools we partner in Kenya.
The good news is that the building work in Athi school is complete – this means that toilet blocks are now usable by the children. In Irindiro school, the planned improvements have also been making slow but steady progress, though there is always more work to be done.
How our partnership works – Hands Around the World has heard of an opportunity to support young people who are interested in training in nursing or other similar health professions, and who have the necessary grades in their exams to enable them to start their training this year. The DCC has been able to identify a nursing training course in the local Methodist hospital, next door to the disability centre. As the requirement would be for health staff who were trained in this way to continue to work within the country for at least 2 years post-graduation, we are considering the potential for them to be employed by the disability centre for outreach work into the local communities, when their training is complete. To date there have been three applicants for training places, for whom the cost is currently a barrier to continuing their qualifications.
We aim to enable some candidates to pursue this health training opportunity; as well as gaining personal qualifications, they would be able to dedicate some of the time during their training to the DCC, such as supporting outreach clinics. This would provide an invaluable resource to the disability centre, however we will still need to identify funding for their ongoing employment.
How can you help?
(RSS generated with
FetchRss)
Source: Reports