Report from the New Life Centre, India, April 2018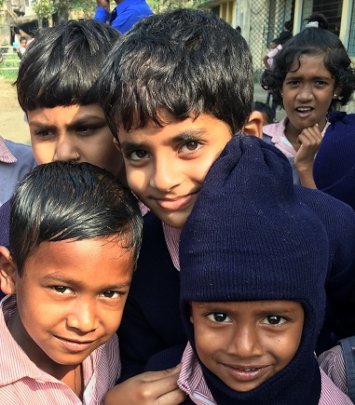 I joined Hands Around The World in August last year and have been learning about all the projects from a distance. So I was thrilled when the opportunity came up to visit the New Life Centre in Sarberia recently. I last went to India during my gap year in 2000, where I taught English at another village school in West Bengal, and as I stood listening to the children singing the Indian national anthem in morning assembly, the memories came flooding back.
I was welcomed with great warmth and enthusiasm during my stay. The children greeted me with big smiles and "hello Auntie, good morning Auntie" and our host, founder and centre director, Alindra Naskar (below), kept us entertained with stories from his fascinating life, which he has dedicated to helping those in need,
"I worked with Mother Theresa in the slums of Calcutta and from there I went to work with the Leprosy Mission for 34 years and later I started the New Life Centre. I found that my village is so much trailing behind and there is so much darkness of education and many children are growing up without any purpose in life. So I sold up everything I had and used the money to start the New Life Centre."
Sarberia doesn't benefit from the interventions of the many NGOs operating in neighbouring Kolkata and like many places in rural India remains a neglected and underpriveliged village. The NLC opens its doors to the less fortunate children in the community and has grown from supporting 39 children when it opened in 2005 to over 500 today.
Although the centre's primary objective is to provide a quality education for children in Sarberia, it quickly became apparent that it is also a place where people at risk can go and ask for help. They will be welcomed and helped if at all possible. For example, on our first day we met Manu (below, front row, far right in blue)…
At just 21 years old, Manu has experienced a lot of trauma in her life and is vulnerable as a single mother with limited support. When she came to the NLC for help, her son aged 6 was enrolled immediately and all his books and uniform were provided. She is now employed in a part time capacity to care for the younger children and to do some cleaning and general duties. Joining the NLC has opened up new opportunities and hope for the future for both Manu and her son.
Another example, is the story of Sauvic B (below), who joined the NLC in kindergarten and is now in his final year. His mother first came to the NLC in great distress as she was suffering from terminal cancer and was so worried about what would happen to her son when she died. Alindra made her a promise that he would make sure her son was taken care of, that he would finish school and come up in life and so she enrolled him in the NLC. Sauvic lives with his uncle and cousins. Alindra has always offered support as a mentor and talks to Sauvic about working hard and coming up in life and what his mother wanted for him. He will continue to act as mentor when Sauvic graduates from the NLC and moves on to senior secondary level at a local college. Sauvic has done well in school and in Alindra's words, "his mother would be very proud of him."
I admire the commitment and enthusiasm with which the children approach school and wonder at their achievements even when the odds are stacked against them.
For girls especially, it takes persverence and determination to make it through to grade 10 and beyond. There is a lot of pressure to marry as young as 14 or 15 years old. Some of those who left school early have returned to join the Vocational Training Programme. I enjoyed getting to know Manabika B (below) and the other women in the VTC, who are working towards a certificate in tailoring.
To date, 96 women have graduated from the programme and many of them have become self-employed and are now better able to support their families.
Thank you for supporting this inspiring project.
(RSS generated with
FetchRss)
Source: Reports