Pizz Zambia April 2018 Update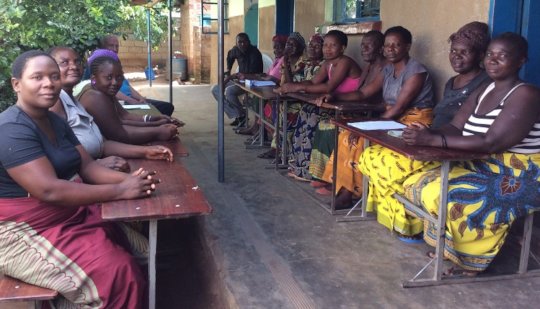 Pizz School in Monze, Zambia is well-respected within the local community and so is able to utilise the invaluable resource of a group of unpaid volunteer Caregivers who identify vulnerable children from within their villages and continue to offer support to them throughout their time at the school. When I visited them for an extended period last year, I was most impressed by their commitment and enthusiasm.
This group has met together recently to plan support for the months ahead. Their plans are ambitious and they don't currently have the resources to bring all of them to fruition, but they remain determined and hopeful.
Hands Around The World has been able to provide donated knitting and sewing items along with a few hand sewing machines – these will be used to teach useful handwork skills to the pupils.
The Caregivers are also hoping to set up a poultry unit and to grow maize, this will help provide both food for the children and income for the school. HATW is currently seeking funds to purchase an incubator to help establish the poultry unit.
The emotional development and safety of the children is also vital to their wellbeing and so the Caregivers provide counselling where needed and also encourage dialogue on the effects of early marriages and pregnancies, HIV/AIDS and safeguarding awareness.
Pizz School works in an holistic way to nurture and support children to reach their potential, feeding their bodies and their minds. By all working together, Staff, Caregivers, other volunteers and financial supporters, real and significant changes are being made to the lives and prospects of children who might otherwise fall by the wayside.
Please help us to continue to provide the support and encouragement they need. Thank you.
(RSS generated with
FetchRss)
Source: Reports