Kaliyangile Zambia Update March 2018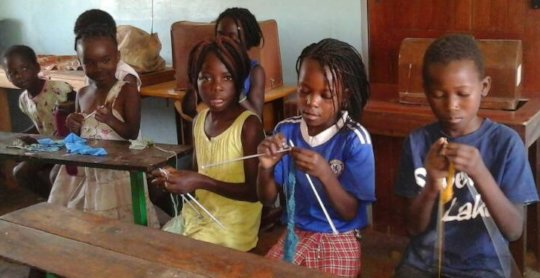 At Kaliyangile in Zambia, the knitting wool and needles sent out recently in our container were of great interest and much appreciated by many, as you can see! The sewing and knitting project is attracting regular (slightly older) trainees, the machines are busy, and seeing some new possibilities was a real eye opener.
There was lots of clothing in the container too, including donated polo shirts and sports tops. The plan was to give this out at their Christmas party, but sadly this was long delayed because of a government-imposed ban on social events due to a cholera outbreak. At last the great day arrived!
Persis is the project manager, and she writes: "It was a great day for the Kaliyangile community – committee, workers and students. We all enjoyed the celebrations and they were especially thankful to Hands around the World (HATW) for the support. It was all smiles when some clothing sent by HATW was given to the students as motivation. We look forward to a good year in 2018 and send our heartfelt love and gratitude to the team at HATW."
The next project is to start computer training to help many local unemployed youngsters. 5 desktops, chairs and tables have now been purchased and are currently awaiting installation. But in the heavy rainy season wind and downpours, the classroom roof has sprung a serious leak and needs a major overhaul and repair first. The anticipated cost of this is about £1350.
Never a dull moment!
Thank you so much if you have helped us in the past, and please consider helping us get the roof back on properly if you can. Thank you.
(RSS generated with
FetchRss)
Source: Reports