A first-timer in Benin, March 2018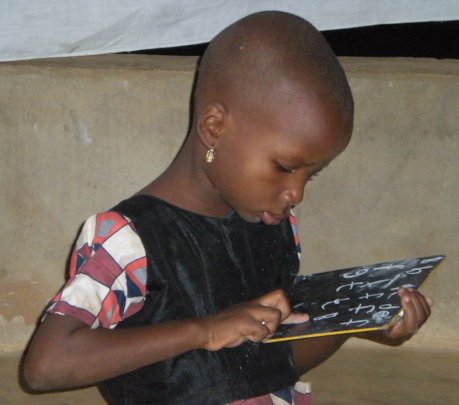 When you come to the end of the chili-red, dust track through the centre of the village of Affame, you arrive at the Chez Papa Geoff Orphanage, and (unless the children are away at school), your first impression is of a happy family, with children's laughter filling the air. As soon as a visitor is spotted, they drop what they are doing and rush to meet you, dropping a small curtsey and offering to carry your bags. They proudly escort you to their home.
These are children who, due to circumstances beyond their control, were dealt a rotten start in life. However, in being taken into Chez Papa Geoff they have more than made up for it. They are now the lucky ones.
The first thing that strikes you is the comradeship that exists. You almost never hear arguing, whingeing or disagreements between the 12 children, aged between 6 and 16. They help and support each other with no apparent intervention from adults. They are lucky to have a fine example of a father-figure in Dieudonne, and a warm but firm house-mother in Rosalie. One of the orphanage's great assets is little Victoria, Rosalie's baby. She is universally adored by all the children and amazingly, is perfectly happy to be pulled around by them. She's everyone's kid sister and a great unifying bond. Full marks to Rosalie for being so relaxed about sharing her baby!
During our time there, we were able to spend more time than usual with the children, as the schools were on strike. To start with, they were all quite shy, but gradually – especially the girls – became totally relaxed with us. The boys took a little longer to unbend! We took a lot of children's books in French which they clearly loved, and were keen to read as well as having them read to them. We got the impression many of them hadn't seen a book before, as there are no text books in school. We also took several boxes of dominoes which they played over – and over – and over again! They also enjoyed Connect Four. One day, we arranged an Art Day, with paper and coloured pens. Without exception they wanted to rule lines, and even when we removed the rulers, they used the pens. Freehand is not a word that exists in Fon! They were fascinated by a Kindle, and the older girls had a go at crocheting. We showed Rosalie how to make drop scones and marmalade, and that caused a great deal of interest. We found whatever we suggested – there was unbounded enthusiasm.
As an outsider coming in, the impression you get is that Hands Around the World have got the balance of care just about right. These are African children, and though there is temptation is to make "English children" out of them (with toys etc), one must remember their life will be amongst the village folk, not us. The girls will carry water on their heads, cook over open fires, live on a diet largely of yams and manioc and carry their babies on their backs, probably while tending the goats and crops. The boys will probably work long, hot back-breaking hours in the fields. With this firmly in mind, they all do their share of the chores around the orphanage – sweeping the court yard, cleaning, cooking and washing up. Only the six year old is excused washing her clothes!
In the mean time, they have plenty of good food to ensure their development, they have beds to sleep in, they go to school, they have facilities for doing their homework. They have support for their ambitions and any problems or health issues that occur, and in addition, they have the fun they obviously all share, of growing up with 11 brothers and sisters. Hopefully they will carry that with them for the rest of their lives, together with memories of special days and treats (Christmas, trips to the beach etc.) that Dieudonne arranges for them.
(RSS generated with
FetchRss)
Source: Reports