Rwanda January 2018 Update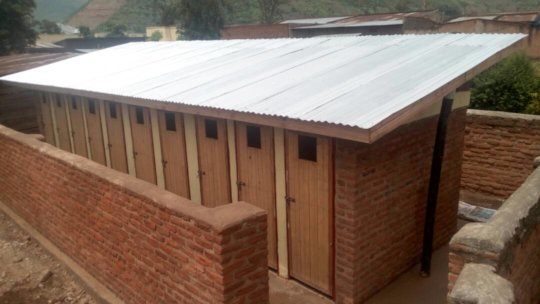 In November a small team of Hands Around The World volunteers left the UK to continue building, maintenance and teaching at Muko school in Bugarama, Southern Rwanda.
The volunteers were once again working with a local labour force (up to 20) continuing to improve this ever-expanding school. There are now over 3000 students, two thirds of whom can only attend on a half-day basis due to lack of classrooms. The 1000 senior students who attend full-day classes now enjoy a basic daily lunch (rice and beans) since we were able to fund, build and equip the kitchens.
It has taken three years to build and complete the perimeter wall which now not only protects the school from getting damaged out of hours but also prevents damage from flooding. No damage was reported during last year's heavy recent rainfall.
Priorities at the school were to build further much needed toilets (see picture). Finances allowed a block of 20 to be completed before the new term started in January 2018, and also installation of water tanks and cement floors of some classrooms that remained with mud floors. Two of these classrooms also had large windows fitted, allowing light and ventilation in, replacing old wooden shutters. Along with general maintenance, this cost about £11,000 – our volunteers do their best to raise this money themselves but any donations are very welcome!
The English teaching programme we have been operating for the last three years was once again a great success.
Our volunteers pay all their own expenses including flights and accommodation. They work with a local labour force who may have no employment for the rest of the year; buying all materials locally is a boost for the local village economy.
If you have in the past made a donation to this very worthy cause, I thank you, but please note that additional funds are always required to continue with our work.
(RSS generated with
FetchRss)
Source: Reports