Paluoc, Kisumu, Kenya November 2017 update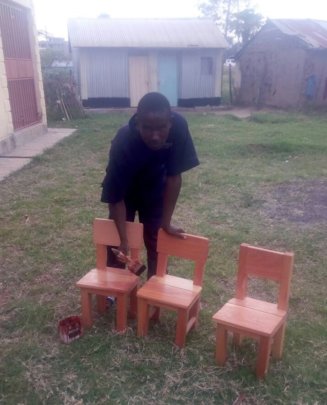 Things are moving along at Paluoc. With help from Ouma Melchizedek, a friendly and experienced adviser with good administration skills, Paluoc have drawn up plans which they hope will see the workshop being largely self-sufficient by 2020. It's a big ask.
A range of issues are being reviewed. More effort is being put into recruitment via a range of vibrant local churches. An attempt is being made to further expand their product range; the photos show some small chairs (not school benches) and a wardrobe.
They are also using their bandsaw to make life much easier for the trainees as long as they are respectful of the health and safety issues.
The way that they obtain work from e.g. schools, by tender, is also being reviewed. The use of a middleman previously, though obtaining work, has not always worked out well financially. It is essential for the workshop to obtain work so that the trainees can get some experience of "real" work as well of course for the income generated.
I am planning a visit to Kisumu early in the New Year but not until the shenanigans over the election results have died down. It will be good to see Paluoc in action, to meet the new trainees, and to admire the new paint job that has been done internally.
(RSS generated with
FetchRss)
Source: Reports