New Life Centre, India, November 2017 Update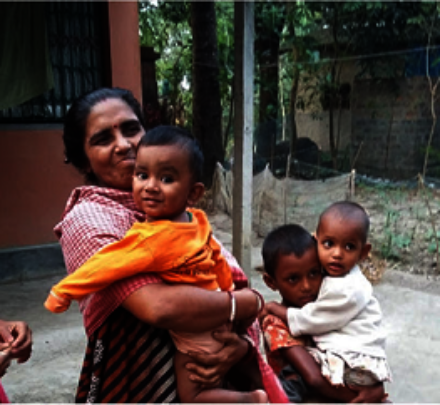 Whenever I visit the New Life Centre school my friend Alindra Naskar, the school's founder, always takes me out walking around the local vicinity meeting the locals. This photo was taken on such a walk. Everyone is delighted to see us, whether they know Alindra or not, and they usually insist on us having a drink and some snacks with them. This lady as you can see has her hands full, but as usual we are greeted with smiles of welcome and everything else is put aside whilst chairs are brought out for us to sit on and refreshments served.
At these times I cannot help but compare what would happen in my local vicinity if Alindra visited me. Obviously the weather makes a huge difference to the lifestyle of the locals in West Bengal as they tend to spend most of their time outdoors and only really use their homes for sleeping in. Even cooking takes place outside as seen here.
But even if we were meeting neighbours here in the UK would they be so hospitable? What is it about this poor community that they want to share what little they have with you?
Unfortunately my life experience has taught me that generally the more people have the keener they are to hold on to it for themselves. The less people have, the more they seem willing to share it with others.
Alindra Naskar has taken this metaphor to heart and the education he received he wants to share with as many children as possible, which is why the New Life Centre school now has over 500 children. My son talked to me once about 'Checking your privilege', a phrase I hadn't heard before. It seems an important phrase for our times when our society in the West seems more polarised than ever. What seems ironic is that the disadvantaged of this poor village in Bengal don't ask it of themselves, as the answer would be too painful. And yet they still keep giving.
Wouldn't you like to share your privilege with others?
(RSS generated with
FetchRss)
Source: Reports