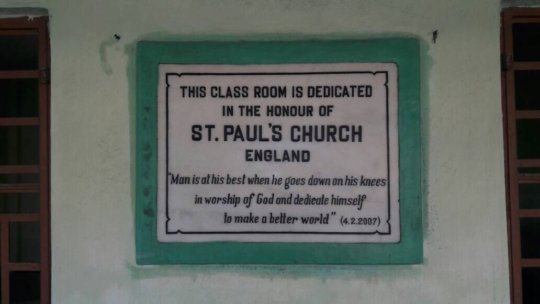 Southampton to Sarberia
I visited St Paul's Church in Southampton recently to update the congregation on the amazing work that Alindra Naskar is doing in the New Life Centre School. Two of the parishioners, Brenda and Peter went on a HATW project to Purulia and first met Alindra when he was working for the Leprosy Mission in 1994. They have been friends ever since.
This illustrates well the HATW ethos which is to 'Give a hand not a handout'. This translates as going on projects not only to help financially, but also to forge friendships with the local people which will sustain and support the project going forward in a very important way.
I have always had the opinion that you don't have to force charitable acts on people. Whenever a group get together for whatever reason you will often find that there will be some charitable giving and I don't necessarily mean financially, but inevitably a financial reward will follow.
The emotional support you extend to a fellow human being when you are on a HATW project can enable the school/orphanage/training centre to sink or swim. When you extend the hand of friendship and 'never let go' you impart strength and confidence to your fellow that is inestimable.
Brenda and Peter's congregation have supported the New Life Centre school financially over the years, but it is their enduring fellowship that has given Alindra Naskar the inner strength that he needs to continue in his vision to educate the next generation of this poor deprived area.
Alindra set up this plaque to St. Paul's when he first opened the school in 2005. He is a Christian but the majority of the children in the school are Muslim and Hindu. Alindra is trying to make a better world for the children in Sarberia.
Wouldn't you like to be part of this better world for the children in Sarberia?
Just reach out your hand.
(RSS generated with
FetchRss)
Source: Reports